With over 30 years of experience, Union Steel has established itself as a leading player in the metals and scrap industry in Singapore. The Group operates as one-stop supply centers for the collection and recycling of ferrous and non-ferrous scrap metals and the trading of steel and stainless steel products. The Group has received several awards including the Enterprise 50 Award in 2003 and 2004, Fastest Growing 50 Certification and was ranked among the top small and medium enterprises in annual Singapore 500 Small Medium Enterprises in 2004. It was awarded Singapore 1000 – Sales Turnover Growth Excellence Award in 2009 and achieved the Singapore International 100 Company status in 2010.
Union Steel Holdings Limited was listed on the SGX-ST Mainboard on 15 August 2005.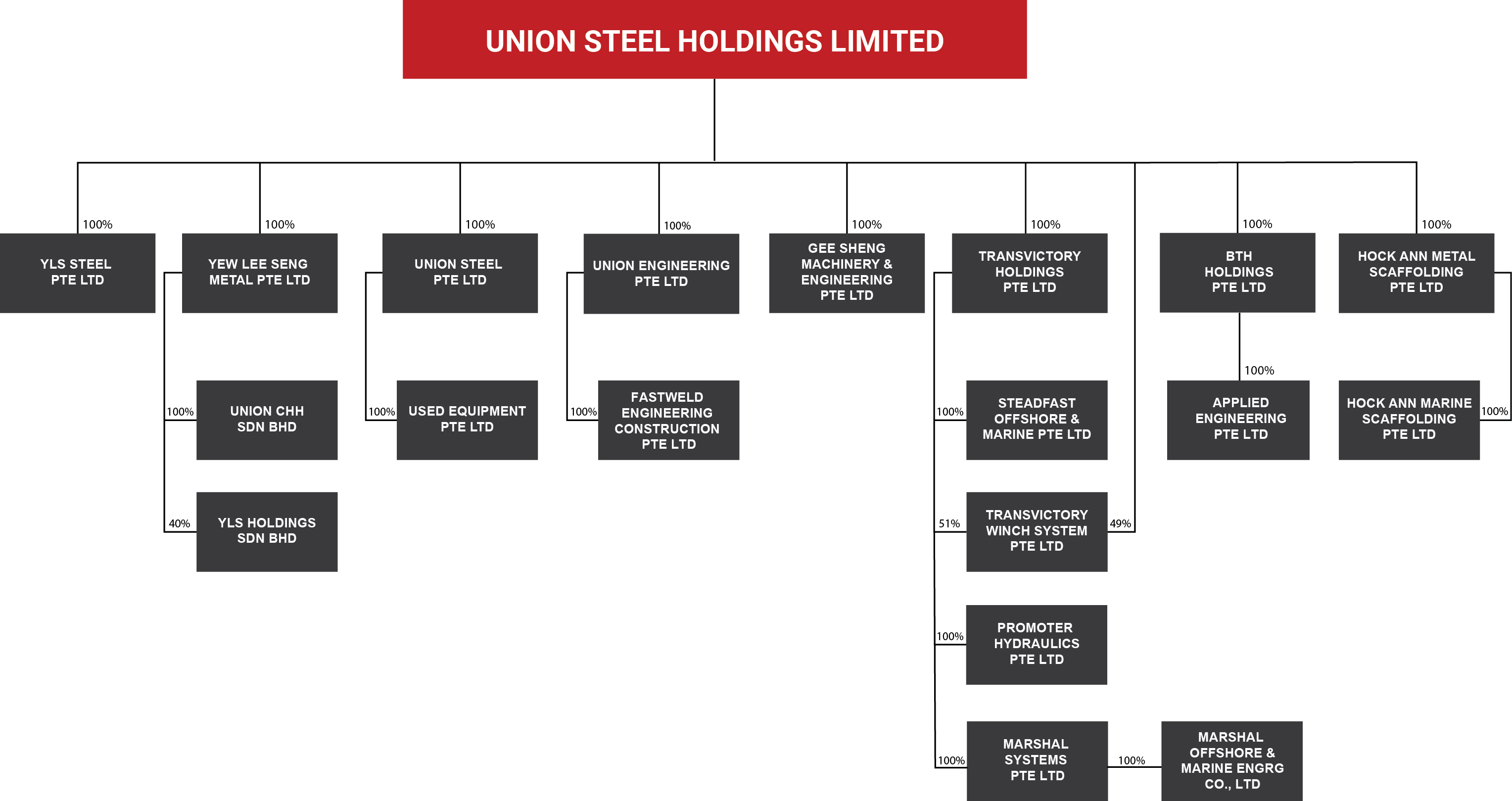 YLS STEEL PTE LTD
Incorporated in 1984, YLS Steel Pte Ltd's core business activities include collection, recycling, trading of ferrous and non-ferrous scrap materials and leasing of steel plates, sheet piles, test piles and beams to companies in the construction and engineering industries. YLS Steel Pte Ltd was accredited with ISO 9001 since 2003.
With more than 30 years of experience in the industry, YLS Steel Pte Ltd is currently one of the largest ferrous scrap metal recycling companies in Singapore.
UNION STEEL PTE LTD
Union Steel Pte Ltd, incorporated in 1991, is a wholly owned subsidiary of Union Steel Holdings Limited. It is primarily engaged in the trading of stainless steel, aluminium and steel products such as reinforcement bars, steel plates, H-beams, I-beams, pipes, sheet piles and wire rods. We also prefabricate construction materials for catered reinforcement and provide cut-and-bend services for reinforcement bars and rods, which we can fabricate and customized to our customer's specific installation requirement.
YEW LEE SENG METAL PTE LTD
Yew Lee Seng Metal Pte Ltd, incorporated in 1988, is a wholly-owned subsidiary of Union Steel Holdings Limited. It operates as a collection center for ferrous and nonferrous scrap metal.
UNION ENGINEERING PTE LTD
Union Engineering Pte Ltd is a wholly-owned subsidiary of Union Steel Holdings Limited. It is an engineering company to own and operate modern workshop in Singapore and South East Asia.
HOCK ANN METAL SCAFFOLDING PTE LTD
Founded in 1996, Hock Ann Metal Scaffolding Pte Ltd is one of Singapore's leading provider of scaffolding services. With on a heritage of delivering excellence, industry knowledge and safety awareness in the scaffolding industry, Hock Ann Metal Scaffolding Pte Ltd is the preferred partner of Singapore's prominent construction companies. Kindly visit Hock Ann at www.hock-ann.com.sg.
GEE SHENG MACHINERY & ENGINEERING PTE LTD
Gee Sheng Machinery & Engineering Pte Ltd was established in 1993. Specializing in custom vehicular and equipment fabrication, Gee Sheng has become a top-notch manufacturing firm that is well known in the industry. In August 2015, Gee Sheng was acquired by Union Steel Holdings Limited as a strategic step towards the engineering sector in its expansion plans.
GSME provides services such as engineering works for trailer mount units for the oil and gas industry, manufacturing of motor vehicle bodies, trailers and semi-trailer vehicles for Singapore government agencies, including PUB, SCDF, SAF, and AETOS, as well as the private sectors. Kindly visit www.geesheng.com.sg for detailed information.
TANSVICTORY WINCH SYSTEM PTE LTD
Transvictory Winch System is a manufacturer and supplier of winches, cranes & hydraulic power units based in Singapore. Acquired by the group in 2016, the company is one of the largest stockist in Asia. Transvictory Winch System offers immediate solutions to all winching and lifting requirements, providing short and long term leasing services as well as direct sales. The company also is specialized in marine deck equipment and related services. Kindly visit www.transvictorywinch.com for detailed information.
MEGAFAB ENGINEERING PTE LTD
Megafab Engineering Pte Ltd is a specialist in land transport engineering solutions. The company provides comprehensive ranges of equipment and component for load handling, including truck-mounted cranes, tailgate, rubbish compactor etc.
Currently represent Effer and Zepro, Megafab Engineering Pte Ltd also reconditioning other used brands for local market or export to regional markets.  
For more information about our group, please visit www.unionsteel.com.sg